Statement • Resources • Counter-protests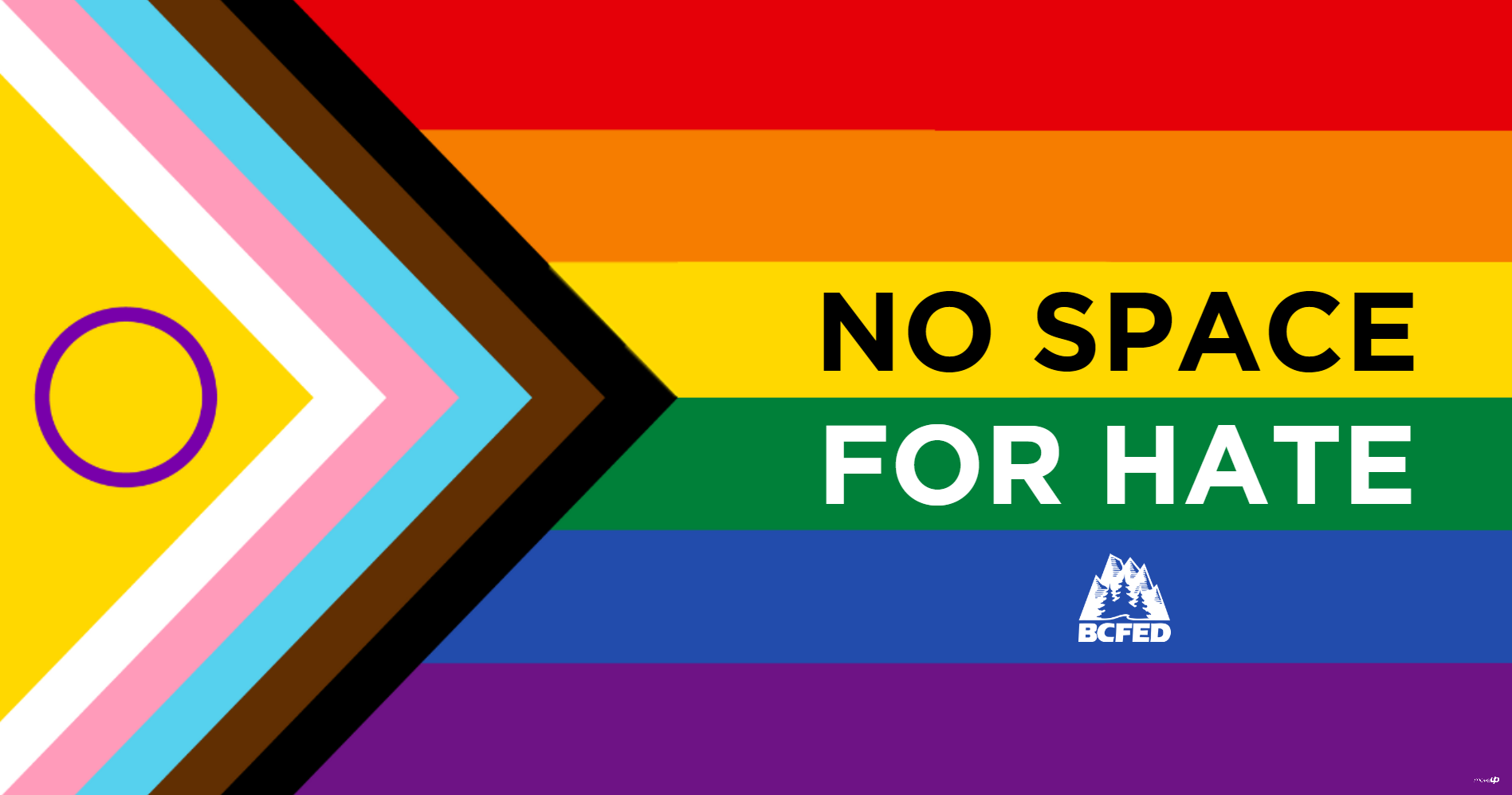 The British Columbia Federation of Labour stands firmly and proudly with the 2SLGBTQIA+ community in the face of a surge of anti-trans hate speech and actions across the country — ranging from regressive and harmful provincial education policy to resolutions passed at this month's federal Conservative convention.
The same forces who have been using fear, disinformation, conspiracy theories and hate to whip up anti-trans bigotry are now coalescing in hate rallies in communities throughout Canada and BC on September 20. These rallies directly attack the 2SLGBTQIA+ community and the principles of equity and inclusion that are at the heart of labour solidarity.
It is outrageous that these organizations use the well-being of children as a pretext for hate. They are notoriously silent when it comes to the real needs of children, including decent, affordable childcare; a well-funded public education system; living wages and higher income and disability assistance rates for parents; affordable housing for families; and action to ensure a livable world for future generations. And they show no concern for the mental health of the trans kids and teenagers harmed by their hateful portrayal of trans people.
While the organizations' rhetoric invokes a range of alt-right conspiracies and talking points, the events in BC specifically target our SOGI (Sexual Orientation and Gender Identity)-inclusive education, which helps to represent the diversity of families in BC. Along with the BC Teachers' Federation, we stand with teachers and impacted students in BC against hate — and in full support of SOGI and other resources that make our schools more inclusive and welcoming for all students.
It's important that our community and our movement show, as we have time and again, that we reject hate and bigotry in all their forms. There are many ways to show your support:
Join BCFED and union leaders and members at one of the many grassroots counter-protests being organized throughout BC. You can find information on them here.
Encourage our political leaders and your MLA to condemn these actions. You can find their contact information here.
Consider making a financial or in-kind donation to local groups and networks that are coordinating counter-protest actions, as these are often led by trans and queer volunteers. Contact a local group to see what help they need most.
As we know only too well, these groups will not stop at targeting 2SLGBTQIA+ people. And recent incidents of violence and harassment in BC and across Canada make the real impact of this kind of hate starkly clear. Trans bodies and lives are on the line, and it's up to all of us to take a stand. An injury to one truly is an injury to all.
---
Resources
For 2SLGBTQIA+ community members who are impacted by the ongoing rise in hate speech and rallies and need support, here are some resources available to you: 
---
Counter-protests
These are protests organized by grassroots community groups. As we get information about counter-protests, we'll add them here. Aim to arrive half an hour before the protest begins. Things are changing quickly, so email bcflyingsquad@protonmail.com for the latest information.
Chilliwack — Sardis Park, 6898 School Lane — 3:00 pm
Coquitlam — Coquitlam City Hall, Lot A 1299 Pinetree Way — 9:00 am
Kamloops — Kamloops Court House, 455 Columbia Street — 9:00 am
Keremeos — Memorial Park, 417 7th Avenue — 9:00 am
Nanaimo —  School District 68, 395 Wakesiah Avenue  — 9:00 am
Penticton — Penticton City Hall, 171 Main Street — 9:00 am
Port Alberni — District Office 4690 Roger Street  — 10:30 am
Prince George — Prince George City Hall, 1100 Patricia Boulevard — 4:00 pm
Princeton — Princeton Branch Library, 107 Vermillion Avenue — 9:00 am
Surrey — Education Minister's Office, 9030 King George Boulevard — 11:00 am
Vancouver — Vancouver Art Gallery, 750 Hornby Street — 12:00 noon
Victoria — BC Legislature, 501 Belleville Street — 11:00 am
Other groups will join at 3:00 pm after school.