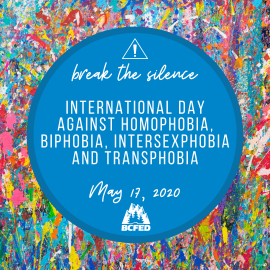 On May 17, we honour the International Day Against Homophobia, Biphobia, Intersexphobia and Transphobia (IDAHOBIT).
Since 2004, IDAHOBIT has served to raise awareness of the discrimination and violence experienced by lesbian, gay, bisexual, transgender, questioning, intersex, and two-spirit (LGBTQI2S) people globally.
This year's international theme is Breaking the Silence, and it has never been more relevant than today. During these unprecedented times of pandemic and physical distancing, as many individuals and groups face increasing isolation and targeting, it is critical that we speak out and offer our full support and solidarity to LGBTQI2S people.
We encourage everyone in their respective communities to reach out and celebrate with LGBTQI2S people, in a spirit of love and solidarity.
"As a queer woman in the labour movement, I take pride in my community and in how far labour has come on SOGI issues," said Sussanne Skidmore, secretary-treasurer of the BCFED. "There's no question we have a lot more work to do, and I'm committed as a leader to continue to advance that work."
The BCFED recommits ourselves to creating inclusive communities where LGBTQ2IS workers and their loved ones can show up as their full selves and thrive in all aspects of their lives. We stand with you.