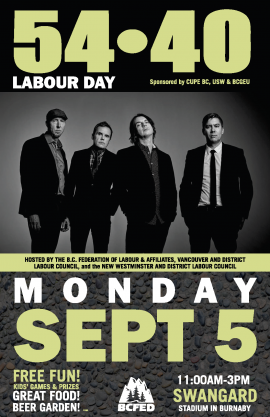 This long weekend, the union movement is sponsoring events and festivities to mark Labour Day in communities across the province.
Click here to find out what's happening near you.
In the Lower Mainland, there's the big Labour Day picnic Mon. Sept. 5 at Swangard Stadium in Burnaby, featuring the band 54-40, BC Federation of Labour President Irene Lanzinger, and BC NDP leader John Horgan. The picnic starts at 11 with food and refreshments available. The program starts at noon, and 54-40 takes the stage at 1 pm and play until 3..
Meanwhile, BCFED Secretary-Ttreasurer Aaron Ekman will speak at the Prince George picnic set for Monday at Veteran's Plaza. The event starts at 11 am and runs to 4 pm