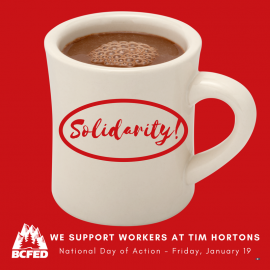 In support of Tim Hortons workers in Ontario, BC Federation of Labour President Irene Lanzinger will be taking part in a rally outside the Tim Hortons location at 1st and Commercial in Vancouver's east end Friday afternoon.
What: Irene Lanzinger at rally in support of Tim Hortons workers in Ontario
Where: Tim Hortons, 1635 Commercial Dr. at 1st Ave., Vancouver
When: Friday, Jan. 19, 5:00 pm
The rally is part of a national day of action to call out the actions of Tim Hortons owners in Ontario who cut benefits, hours of work and uniform allowance after Ontario increased its minimum wage.
"It's time to send Tim Hortons and its parent company, Restaurant Brands International (RBI), a strong message – stop punishing your workers," says Lanzinger.
The BCFED has been campaigning to boost BC's minimum wage to $15/hour to lift 500,000 workers above the poverty line.